Activities of the Villas
There is a wide choice of activities and daytrips you can do during your stay at our Villas in North Bali. This is just a small choice of the most popular activities and day trips to cultural and natural highlights of North Bali that we can organize for you.
Swimming
The child friendly shallow water of North Bali's reef protected beaches is all year throughout an agreeable temperature, excellent for unconcerned swimming and relaxing.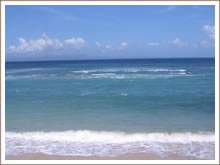 Snorkelling & Diving
Admire the wonderful under-water world of the Bali Sea. Lovina still has hectares of coral reef where you can discover a new world with numerous colorful tropical fish.
Watching dolphins at sea
Sail out in a traditional outrigger around sunrise and watch how dozens of dolphins tumble through the quiet waters of the Bali Sea. Afterwards have a delicious breakfast at your Villa.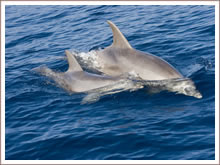 Fishing at sea
Sail out early in the morning with the local fishermen to fish for baracuda, or if you like, longline the Bali Sea for tuna further off shore.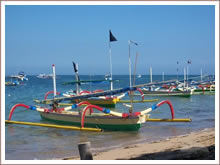 Hot springs of Banjar
Situated in the jungle at a distance of ca. 20 min. by car from your Villa are the volcanic hot springs of Banjar. Here you can indulge in relaxing and swimming.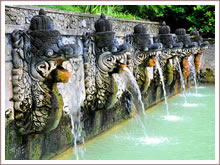 Buddhist monastery
Close to the hot springs of Banjar is a unique Buddhist monastery, at a hill top with stunning views over the area. The monastery is built as a small replica of the Borobudur .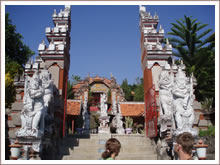 Jungle Trekking
In the Sawan area you will find the still unspoilt jungles and waterfalls. No roads lead to these waterfalls, they can only be reached via tracks through rice fields, plantations and jungle.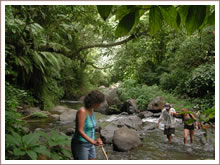 Rafting
A spectacular experience! With a dinghy down the river and enjoy the breathtaking nature.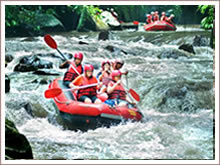 Golf
For golf lovers there are plenty of opportunities to play their favorite sport.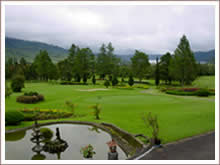 Volcanoes
At an average height of 1500 meter lies the area of Kintamani and Batur. In the caldera at the shores of Lake Batur are some authentic traditional villages like Trunyan.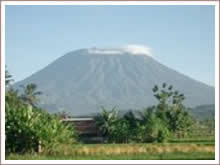 ---
share this activities page